Vertical Endeavors Twin Cities Bouldering
Climbing, fitness, and yoga! Vertical Endeavors–Twin Cities Bouldering is a cutting-edge indoor climbing, yoga, and fitness center serving the Twin Cities community. Bouldering is a specific style of climbing where the climbs are short, unroped, and technical. People of all abilities can challenge themselves and have a blast! The facility features 18,000 square feet of bouldering walls along with a full fitness area and yoga studio. We welcome youth in our facility with supervision.
Take on a great work out and come experience the excitement of rock climbing in the Twin Cities.
Training + Fitness by
Eric Hörst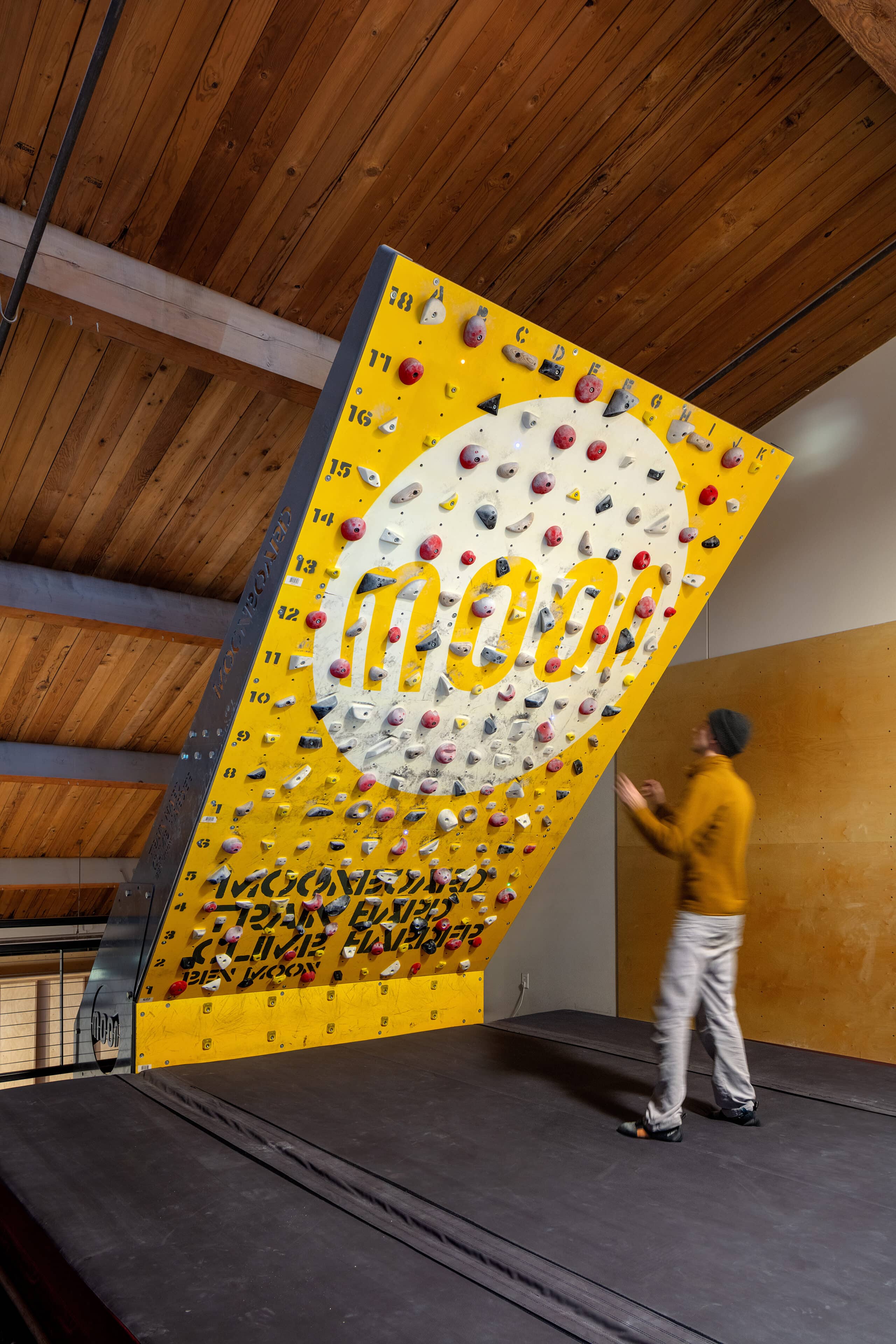 Address

2550 Wabash Avenue
Saint Paul, Minnesota 55114
Working at VE since: 2018

About Me: My pronouns are she/they. I help oversee and run the day-to-day operations at Twin Cities Bouldering. But my main gig here is to manage and coordinate social events for the gym. So, if you ever have any ideas, don't hesitate to knock on my door. I'm a part of the LGBTQ+ community, and a firm advocate for equality. I thoroughly enjoy making people laugh, which is why I'm typically the first one to crack a joke in most situations. On top of all that, I really enjoy the sport of climbing and the people that gravitate towards it.

Hometown: Raised in Salt Lake City, UT

Climbing since: 2010

Favorite type of climbing: Stemming in a dihedral or smearing on slab, risking the "cheese grater" fall.

Favorite climbing areas: Chopping Block in the Black Hills and Potrero Chico in Mexico.

What I love about climbing: The euphoric rush of pushing past a threshold thought to be impossible, allowing the opportunity to redefine your limits.

Other interests: I like creating fluid art using acrylics mixed with pouring mediums. I also enjoy pinhole and film-based photography, basically any opportunity for darkroom development. I'm very much into the whole DIY thing, so I think ultimately, I just really love adopting and honing new skillsets.

Interesting facts: I have a pet birb named Loti, and I love the ever-living floof out of her.


Since: 2019
About Me: The one thing you should know about me is, I like talking about fishing more.
Hometown: Des Moines, Iowa
Climbing Since: Crimping since 2002
Favorite Type of Climbing: Low ball bouldering, all joking aside, I'm talking real low.
Favorite Climbing Area: I do enjoy the boulders of Devils Lake, WI- the crew out there is constantly establishing and sharing new climbs.
What I love about climbing: Finding new and/or trying out new areas.
Other Interests: Besides fishing I am also interested in climbing short rocks.
Interesting Facts: I often tell many very uninteresting stories.
Since: 2019
About Me: Probably outside or upside down, Jianna is a believer in the yoga mat as a laboratory: a place to explore and learn. Yoga and movement classes with Jianna pull from many movement modalities and aim to bridge the gap between traditional yoga asana and modern movement science. Most interested in things outside, she is an adventure partner, off the grid enthusiast, rookie slackliner, and climber.
Hometown: Spirit Lake, IA
Climbing Since: 2016
Favorite Type of Climbing: Bouldering
Favorite Climbing Area: Utah
What I love about climbing: The challenge against yourself – it's so easy to see growth and improvement!
Other Interests: Slacklining, eating tacos, finding the best camping spots
Interesting Facts: Tom's Diner by Suzanne Vega & DNA is my favorite song. Still unsure why, but I've got fond memories attached to it!
Since: August of 2016
About Me: Climbing is my passion. I started climbing as a kid, but not in earnest until I started climbing weekly at the U of M until I graduated and went to St. Cloud State University. There I spent most of my time either in class, or at the rock climbing wall on campus. While there I started setting regularly. It was during the summer of 2013 that I started working at Vertical Endeavors as a camp counselor.  After college I taught high school and middle school math in Stillwater and Minneapolis, all the while maintaining a part time job at Vertical Endeavors. In the summer of 2016 I was excited to accept a full time position at Vertical Endeavors and work more closely with my passion.
Hometown: Plymouth MN
Climbing Since: 2005
Favorite Type of Climbing: Any climbing that gets me outside
Favorite Climbing Area: Robinson Park, Sandstone MN.
What I love about climbing:  I love how climbing combines problem solving with physical activity. What's more is that the challenge is personal. You are competing against another person or another team you are competing against yourself. The other climbers are just other people on the same journey as you, so you get to bond with them over the moves, rather than building animosity or rivalries. That isn't to say that can't happen in climbing but it's not as common as it is in other sports.
Other Interests: Backpacking, biking, cooking, reading, running and teaching.
Interesting Facts:  I prefer biking to driving, in fact when I went to school in St. Cloud I would bike home to Plymouth to visit family and friends. Also, I love spicy food despite being born and raised in Minnesota  – not just Minnesota spicy, thai spicy is mild to me.
Climbing | Fitness | Yoga
PLAN A GROUP VISIT
Vertical Endeavors–Bloomington offers options for groups big and small. Bring your group in to experience the thrill of climbing. No experience is necessary and there is no age limit. We offer climbing for all ages and abilities!
TAKE A LESSON!
Do you want to advance to the next level? We offer lessons for those committed climbers. A lesson with one of our staff members will open you up to new techniques and possibilities in the climbing world. We offer lessons in Basic Top Rope Skills, Movements + Technique, and Sport Lead Climbing. We also offer personalized Private Lessons so that you can work one on one with a knowledgeable instructor on how to advance your skill set.
YOGA & FITNESS CLASSES
We offer a variety of yoga & fitness classes at VE–Twin Cities Bouldering that provides you with a structured, professionally delivered training plan aimed at helping you increase your base fitness level. Each class will provide you with a  well-rounded workout which is designed to increase your overall fitness, strength, mobility, and endurance for climbing.